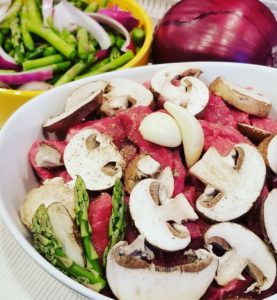 GLUTEN FREE STEAK VEGGIE STIR FRY
This Gluten Free Steak Veggie Stir Fry is so easy to make and absolutely delicious!
When trying to decide what to make for dinner tonight; I wanted to make a meal that was light and healthy for my family to enjoy.
Walking through our local Haggens store; I could not decide between chicken and beef! I went back and forth between them both a couple of times; undecided!
Once I saw the Double RR Ranch package of Northwest Corn Fed Lean Beef; I quickly decided to make a beef stir fry!
After selecting the beef; I went back to the produce department to decide which veggies to include.  There are always so many choices when making a stir fry.
Asparagus, mushrooms and red onion always pair well with beef.  So I chose organic asparagus, mushrooms and red onion.  Just add fresh pressed garlic and black pepper to allow these veggies to fill your palate.
Once I arrived home; I quickly prepped my veggies and sliced the beef to get dinner started for my family.
When cooking the beef strips in my Pampered Chef Stir Fry Skillet; I used my new silicone tongs to turn them and mix the garlic around.
Once the meat was half cooked; I turned down the heat and added the veggies to allow them to steam while the beef finished cooking.
Keep stirring the mixture to keep an eye on the progress of the meat and veggies.  If you overcook the beef it can get tough; the veggies can turn mushy!
It turned out delicious and my family loved it!  Very flavorful and easy to request seconds!
We didn't add rice tonight; however, you could easily serve this mix over rice.  You could also drizzle Kikkoman's Sweet Soy Sauce for Rice over the top to add a little sweetness to it.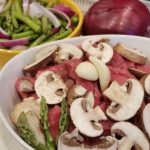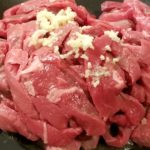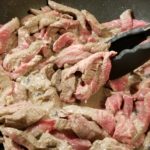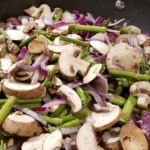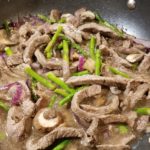 Here is the recipe to share with your family:
Gluten Free Steak and Veggie Stir Fry
Ingredients
2 lbs Lean Beef Steak; sliced in strips
2 cups Asparagas; cut in pieces
1 Red Onion; sliced or diced
2 cups Mushrooms; sliced
2 Garlic Cloves; pressed
2 tsp Black Pepper
2 Tbsp Olive Oil
Optional: 2 Tbsp Spice Island Garlic and Herb Seasoning
Optional: Drizzle with Kikkoman's Sweet Soy Sauce for Rice if sauce desired (Coconut Aminos for Whole 30)
Instructions
In large stir fry skillet (or family skillet); add olive oil, strips of beef, garlic and pepper (and optional seasoning).
Cook on medium heat; stirring occasionally, until meat is half cooked.
Reduce heat to medium low and add veggies.
Continue cooking until meat is cooked and veggies are steamed to desired tenderness.
Remove from heat and serve.
Notes
*Do not overcook; meat will become tough and veggies will become mushy. *Optional: Serve over rice and drizzle with Kikkoman's Sweet Soy Sauce for Rice.
http://glutenfreewithmamab.com/2018/02/22/gluten-free-steak-veggie-stir-fry/
Gluten Free with Mama B Recipe Collection