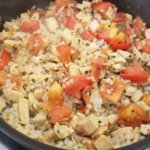 GLUTEN FREE MIRACLE RICE CHICKEN STIR FRY
This Gluten Free Miracle Rice Chicken Stir Fry is an easy way to make a quick meal for lunch in a pinch with leftover Crockpot Chicken!  If you don't have leftover chicken; no worries, you can just pan fry a couple of chicken breasts, dice them up and throw it all together!
The Miracle Rice is amazing!  I found them when I was doing the HCG diet plan through my naturopath last spring.  Miracle Shirataki Rice is Zero Calories, Zero Guilt, No Carbs, No Sugar, Soy Free, Gluten Free, Vegan, and Whole 30 compliant.  It takes on the flavor of whatever you are cooking with and sauce you are using.
I have also used the Miracle Noodles to make guilt free spaghetti and other pastas!  The smell of the shirataki right out of the package is not so great, but you drain and rinse out of the bag and then put in boiling water to warm up for 2 minutes.  Very quick and very easy!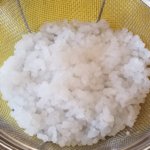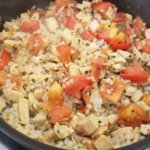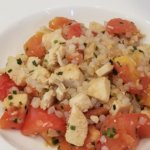 Here is the recipe for you to share with your family:
Gluten Free Miracle Rice Chicken Stir Fry
Ingredients
1-2 Chicken Breasts; diced
1 pkg Miracle Rice
2 Tomatoes; cut and wedges halved
2 Tbsp Chives
3 Tbsp Coconut Aminos or Sweet Soy Sauce for Rice
Instructions
Cook Miracle Rice per instructions on the packaging.
Dice up Chicken Breast if using leftover Crockpot Chicken or Cook Chicken in skillet and then dice up.
Add chicken, rice, tomatoes, chives and coconut amino or sweet soy sauce to pan and warm up on medium heat; continually stirring until tomatoes are fried.
Remove from heat and serve warm.
http://glutenfreewithmamab.com/2018/03/17/gluten-free-miracle-rice-chicken-stir-fry/
Gluten Free with Mama B Recipe Collection