Personal Italian Turkey Meatloaves
I made these Personal Italian Turkey Meatloaves for dinner tonight and they were delish!
When I took ground turkey out this morning I had no clue what I was going to make!  After looking at my crazy "mom schedule" I realized I had 45 minutes between tutoring and orthodontic appointments to throw something in the oven so we aren't eating dinner at 8pm!
The Italian Turkey Meatballs I made before spring break came to mind…they were easy and quick yet not a complete meal!
I decided to use my giant muffin tins to make these personal sized Italian Turkey Meatloaves.
In one large bowl I threw all the ingredients together, mixed and scooped into the muffin tins.  Once I topped with marinara they were ready to pop in the oven.  Just enough time to throw in the oven, pick up from tutoring and head home to pull them out before heading to orthodontic appointments!
Dinner was done before I left and my husband and boys could eat before we got back if they found themselves hungry!
I love easy "mom on the go" meals that are healthy and delicious!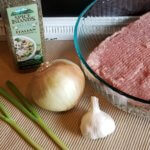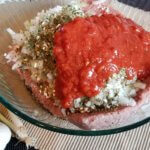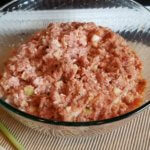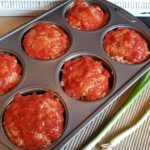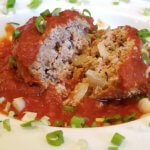 Here is the recipe for these quick and easy meatloaves:
Personal Italian Turkey Meatloaves
Ingredients
1 1/2 lbs ground Turkey
1/2 red onion; chopped
2 cloves garlic; pressed
2 tbsp Spice Island Italian Seasoning
1/2 c egg whites (or 2 eggs)
1/2 c marinara
2 green onions; chopped
1 tsp salt
1 tsp pepper
6 tbsp marinara for topping
Instructions
Preheat oven to 350° F; coat large muffin pan with olive oil or nonstick spray.
In large bowl combine ground turkey, diced onion, garlic, Italian seasoning, egg, marinara, salt, pepper and 1/2 of diced green onion.
Mix all ingredients well.
Fill each muffin space evenly.
Pour 1 tbsp marinara on top of each meatloaf and spread evenly.
Bake in oven for 45-55 minutes until cooked thoroughly to an internal temperature of 165°.
Remove from oven and let stand for 5 minutes.
Top with diced green onion and serve warm.
Notes
*Optional: Sprinkle with mozzarella cheese and bake additional 5 minutes to melt cheese then top with diced green onion.
http://glutenfreewithmamab.com/2018/04/10/personal-italian-turkey-meatloaves/
Gluten Free with Mama B Recipe Collection