Gluten Free Grilled Fish Tacos
Tonight was a beautiful night for these Gluten Free Grilled Fish Tacos in the Northwest Spring sunshine!  It turned out to be a perfect night for grilling; and these tacos were simply amazing!
Being Taco Tuesday; I knew I was going to make tacos for dinner!  Originally I thought I would make shredded chicken tacos; however, with the weather being so nice a fresh and light grilled taco sounded better.  Fish tacos are always so light and fresh!  I love making them on beautiful summer nights to enjoy on the patio with the family.
The simplicity of grilling the fish and picking up a package of cole slaw mix or a cilantro lime southwest salad makes this another great "mom on the go" meal!  I love easy and simple healthy recipes like this one.  Especially when my family gobbles it up and asks for seconds.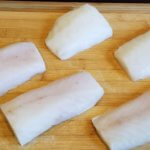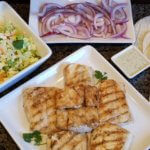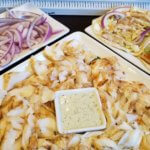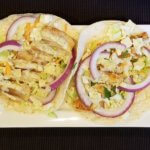 If you're looking for a lower carb version of this meal; you can use lettuce cups or serve the fish over the cole slaw salad mix without the tortilla and it is still delicious.  The flavor of the fish holds it's own and could be served with a side of rice or as a main dish.
These tacos pair perfectly with a pitcher of lime margaritas!  Just like the Gluten Free Cilantro Lime Fish Street Tacos!
Here is the recipe for you to make for your family:
Gluten Free Grilled Fish Tacos
Ingredients
8 pieces of white fish
1 tsp cumin
3/4 tsp cayenne pepper
1/2 tsp paprika
1 tsp salt
1/2 tsp pepper
2 tbsp lime juice
1 pkg cole slaw mix of greens
1/2 red onion; sliced
cilantro lime dressing (or make from scratch)
8 - 10 corn tortillas
Instructions
Preheat grill to medium low.
In small bowl; combine seasonings and set aside.
Place pieces of fish on parchment paper and pat dry.
Sprinkle seasoning over pieces of fish to spread evenly on both sides.
Drizzle lime juice evenly over each piece of fish.
Place pieces of fish on preheated grill and cook on each side for 3 - 5 minutes; until fish is flakey and cooked completely.
Remove fish from bbq and let stand for 5 minutes.
Using fork; break up fish fillets into small pieces.
Place tortilla on plate, add small pieces of fish as desired, sprinkle cole slaw mix over the fish, add onion and drizzle with cilantro lime dressing as desired. Serve and enjoy!
Notes
*Can add avocado slices and tomato if desired
http://glutenfreewithmamab.com/2018/04/11/gluten-free-grilled-fish-tacos/
Gluten Free with Mama B Recipe Collection