Gluten Free Loco Moco
When on the Big Island of Hawaii you must make a local favorite! Gluten Free Loco Moco with Ground Turkey was the perfect family style dinner.
We treated our extended Ohana to this Hawaiian classic and they loved it!  I make it all the time at home, so it was great to be able to share it on vacation with our friends who have never been to the Big Island and never had loco moco.
I decided to make loco moco "family style" in a 9×13 pan; layering the ingredients to make a loco moco casserole.  It turned out very good and looked amazing!  I purchased McCormick's Gluten Free Brown Gravy mix and made sautéed red onion and mushrooms to add on top for those that wanted to.
I will be making this "family style" loco moco again for my family to enjoy!  It was easy and delicious; not to mention there were leftovers for the kids to eat for breakfast the next morning.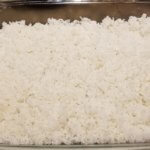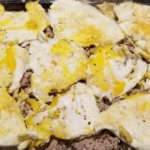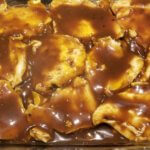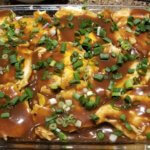 We were hoping to take our friends to our favorite local loco moco spot; The Hawaiian Style Cafe in Waimea.  They make amazing loco moco with several options and other delicious breakfast dishes.  If you are on the Big Island of Hawaii; stop by and enjoy their amazing food!  They are only open for breakfast and lunch; so make sure not to miss them like we did.
Here is the recipe for this "family style" Loco Moco to share with your family:
Ingredients
2 lbs Ground Turkey; browned
3 tbsp Spiced Island Garlic & Herb Seasoning
1 dzn Eggs; over medium
3 cups Rice; steamed
3 pkgs McCormick's Gluten Free Brown Gravy Mix
1/2 c Green Onions; diced
Instructions
Prepare white rice is rice cooker.
Brown ground turkey with seasoning; set aside.
Cook eggs in large family skillet or on a griddle; over medium. Set aside.
Dice up green onions; set aside.
When rice is done cooking; transfer into 9 x 13 glass baking dish. Smooth out to be an even layer on the bottom of the dish.
Add ground turkey on top of the layer of rice; spreading out to be an even layer.
Add over medium eggs on top of the layer of turkey; making sure egg is covering turkey completely.
Make brown gravy on stovetop according to directions. Once done cooking; pour over egg layer and spread evenly to cover all eggs.
Top gravy layer with diced green onions; spreading out evenly.
Serve this dish warm; pouring additional gravy over individual servings as desired.
Notes
*Refrigerate leftovers for a delicious treat in the morning!
http://glutenfreewithmamab.com/2018/04/11/gluten-free-loco-moco/
Gluten Free with Mama B Recipe Collection