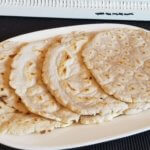 Gluten Free Cassava Tortillas
I had so much fun making these Gluten Free Cassava Tortillas with my four year old!  He helped get all of the ingredients together, dump them in the mixing bowl and when it was time; he helped me roll them out and get them ready to cook!
I used Otto's Cassava Flour and 4th and Heart Ghee butter to make these tortillas and they turned out great!  This flour is Whole 30 Approved to use in recipes (as long as you are not making goodies!) to coat chicken, make a sauce and/or thicken up a soup.
My teenagers have been participating in the Whole 30 Journey with me this time; however, they are running into days where they need something to "feed their growing bodies" that is still compliant and isn't feeding them junk.  My plan was to make a Southwest Chicken dish for dinner, so I looked up Paleo Tortillas and found these little gems with only three ingredients!
I altered the recipe from Lectin Free Mama to use Otto's Cassava Flour and Ghee Butter rather than the special lectin free butter she recommends.  (If you are looking for an amazing site to learn more about living lectin free according to Dr Gundry's Plant Paradox; I highly recommend checking her out!)
My family really enjoyed these tortillas; eating them with my Southwest Chicken Breast inside as a taco and also plain!  The thicker tortillas were very similar to eating a pita bread or a thin soft pizza crust.  In fact; before dinner was ready I used one of the tortillas to make my son a little daiya cheese and ground turkey pizza to hold him over!  He wanted another; however, I only made enough to use for our Southwest Chicken Tacos.  He wasn't very excited that he had to wait to have another until it was time for tacos!
Next time I will double the recipe to make more so we have leftovers.  I would love to use them for breakfast burritos with eggs, bacon, veggies and cheese!  I may have to make a batch tomorrow!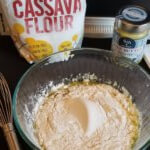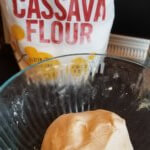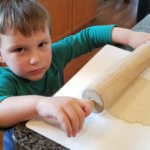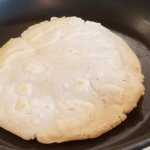 Here is the recipe for these simple little tortillas; I hope you enjoy them as much as we did!
Gluten Free Cassava Tortillas
Ingredients
1/4 cup ghee butter; melted
1 cup warm water
1 1/2 cup cassava flour
(optional: you could add a pinch of salt or your favorite seasoning to add flavor)
Instructions
Melt ghee butter in glass bowl.
Add warm water and whisk together.
Add cassava flour to bowl and work with hands; until dough is no longer tacky and not crumbly.
Divide the dough into 2-3 ounce pieces and roll into small balls.
Heat a nonstick skillet or griddle to medium.
Using a tortilla press, your hand or rolling pin; press each dough ball flat to desired thickness. Using parchment paper helps to keep dough from sticking to pin or press.
Gently place tortilla in skillet or on griddle; if using parchment carefully peel paper back to transfer.
Cook tortilla for 2-3 minutes on one side; until tortilla puffs up, then flip tortilla over and cook for an additional 1-2 minutes. Make sure not to burn either side of the tortilla; unless you want a crispy tortilla!
Remove tortilla from heat and place on plate until ready to eat. If you prefer warm tortillas; you can keep on a plate in the oven on 200 degrees (keeping warm) covered with damp towel so they don't dry out.
Notes
*This recipe is the modified version of Lectin Free Mama's Three Ingredient Cassava Flour Tortillas recipe. Her original recipe can be found at www.lectinfreemama.com
http://glutenfreewithmamab.com/2018/05/03/gluten-free-cassava-tortillas/
Gluten Free with Mama B Recipe Collection