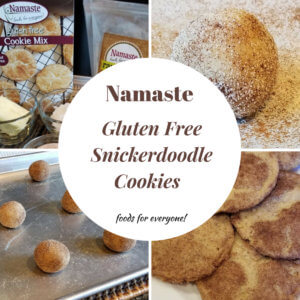 Namaste Gluten Free Snickerdoodle Cookies
Mother's Day Weekend was amazing with these delicious Namaste Gluten Free Snickerdoodle Cookies!  I could not have asked for a more perfect way to celebrate than spending time in the kitchen baking with my daughter and my sister!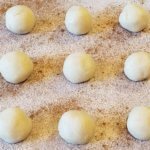 We had an absolute blast making these amazing cookies!  It was so much fun rolling them into balls,covering them in the perfect amount of cinnamon and sugar, smelling them throughout the house while they were baking and gobbling them up before we could share with the boys!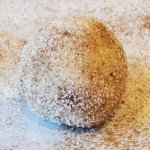 I have never had such an amazing tasting snickerdoodle before.  They were so soft and chewy and simply delicious!  My daughter and sister both LOVE snickerdoodle cookies.  They both said the same thing; best ones EVER!  Definitely a big hit in our home and one we will for sure be making again and again and again!  I will be adding these scrumptious cookies to our family Christmas cookie list too.  They will be the hit of the dessert table!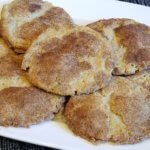 In the past I have been apprehensive about making snickerdoodles because I thought they were a difficult cookie to have turn out "right".  I found out just the opposite!  This mix made these cookies incredibly easy to make and they turned out perfect my first time!  I am so happy with how these snickerdoodles turned out and how easy the recipe is.  If you like making cookies and are looking for a gluten free cookie mix to make your favorite cookies; try this mix.  I will be making chocolate chip cookies with this mix next time!  Those are my boys' favorite cookies and they will be so excited to eat them!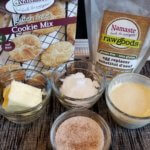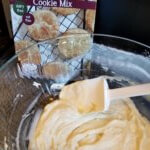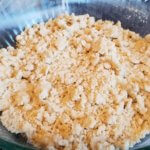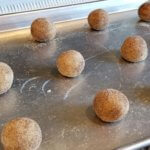 Here is the recipe for these amazing Snickerdoodle Cookies:
Namaste Gluten Free Snickerdoodle Cookies
Ingredients
1 box Namaste Gluten Free Cookie Mix
2 Eggs (or equivalent Namaste Egg Replacer)
1/3 cup Butter or Margarine; softened
1/3 cup Shortening (or Coconut Oil)
2 tsp Cinnamon
3 tbsp Sugar
Instructions
Preheat oven to 400 degrees F; spray cookie sheet with non-stick spray.
Combine eggs, butter and shortening until creamy.
Add dry mix slowly, incorporating well after each addition.
Combine cinnamon and sugar in separate bowl.
Roll dough into balls and roll in cinnamon/sugar mixture to cover completely.
Place on cookie sheets.
Bake 8 - 10 minutes until bottoms are golden brown.
Remove from oven and transfer to wire cooling rack.
http://glutenfreewithmamab.com/2018/05/15/namaste-gluten-free-snickerdoodle-cookies/
Gluten Free with Mama B Recipe Collection
I have used Namaste Foods all purpose gluten free flour for years while baking cookies, breads and thickening up sauces.  Until recently; I had not used their other mixes.  I didn't know I was missing out!  So far each of the mixes I have used has been delicious and very easy to follow.
This gluten free cookie mix is very versatile!  You can use it to make several different types of cookies; not only snickerdoodles.  Rather than roll the dough in cinnamon/sugar you can throw in different ingredients such as; chocolate chips, nuts, coconut, raisins, dried fruit and more!  I may have to try my mom's favorite; minced meat cookies!
I am so thankful to have had the opportunity to try out these different mixes as I will be making sure they are readily available in my pantry from now on!  If you haven't had an opportunity to try Namaste Foods products; I highly recommend you give them a try!  You can find their product line on their website at:  www.NamasteFoods.com and on their Facebook page at:  www.facebook.com/NamasteFoods.