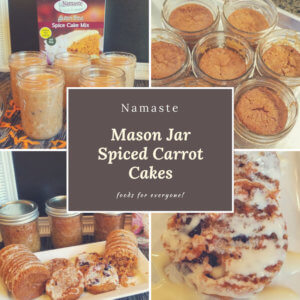 Namaste Mason Jar Spiced Carrot Cakes
I am in love with these Namaste Mason Jar Spiced Carrot Cakes!  They were so delicious and so fun to make!  The perfect treat to share with a friend or dress up and gift to a teacher!
Living in the Pacific Northwest out in the countryside; I am always looking for fun ways to doll up a recipe!  While searching for different craft ideas for my kids to help with this summer; I came across a mason jar banana bread recipe and immediately knew I wanted to try it!
The recipe was very similar to the recipe I grew up making with my mom so I made note of the mason jar baking idea to try with my kids.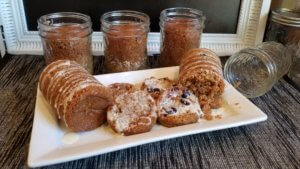 Instead of making the banana bread in the jars; I thought I would make personal carrot cakes with the Namaste Gluten Free Spice Cake Mix.  (I'm so glad I did, because they were amazing!)
Over the weekend; we had some "down time" before a double header baseball game so I took advantage of the opportunity and asked my daughter to help me.  She was so excited to help so we gathered up the ingredients needed and got started making these little cakes!
The Namaste Spice Cake Mix can be used to make several different types of cakes and breads.  I chose to make carrot cake; however, you can make gingerbread, carrot, fruit & nut, pumpkin spice, applesauce and more!  This mix is very versatile!  I am going to make a chocolate chip pumpkin loaf next time!  Yummy!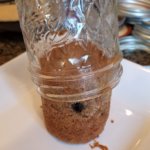 For the Mason Jar Spiced Carrot Cakes; I used half pint canning jars to make personal sized cakes to slice and serve as little round cake slices.  When choosing your jars; make sure the opening is as wide or wider than the bottom, so the cakes slide out and don't get stuck!
The jars need to be prepped with a non stick spray before filling them or the cakes will get stuck and have to be cut out of the jar.  They would still taste delicious, but wouldn't be very pretty!
The directions on the package were very easy to follow; making the preparation a snap!  I used the Namaste Egg Replacer in this recipe and it turned out amazing!  Best egg replacer I have ever used; and I have tried many!  The egg replacer was thick like an actual egg white; which allowed the cake batter to be fluffy and have a good consistency.  If you are looking for an egg replacer; this one is highly recommended!  I am adding it to Mama's Shopping List to have on hand for all of my cooking and baking needs.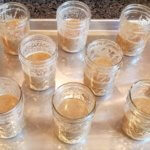 Once we had all of the ingredients combined together; we filled each of the mason jars a little more than half full to allow room for the cakes to rise and not spill over the top.
If you fill them too full the cake will rise up and fall out of the jar; possibly allowing the jars to fall over and break.  A little more than half full is perfect!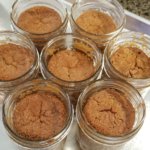 It only took 45 minutes for the cakes to bake completely; so we removed them from the oven and allowed them to sit and cool for about 10 minutes.  Once they weren't too hot to handle; we turned the jars upside down to allow the cakes to slide right out onto a platter.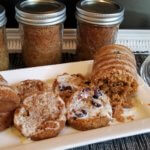 Being they were still warm; we allowed them to cool completely before we sliced them and drizzled a cream cheese frosting over the top to sweeten then up to serve!
I made both Spice Cake and Spiced Carrot Cake with this recipe!  Half the batch was the spice cake mix and the other half was the spiced carrot cake with carrot shavings and craisins.  They were both delicious!  This cake mix was full of flavor, very moist and had amazing texture.  You would never know this is a gluten free cake mix!
After trying the two different cakes; I added a melted cream cheese frosting drizzle that sweetened both cakes up and were absolutely divine!  I am putting this cake mix up on the top of my new favorites list!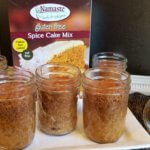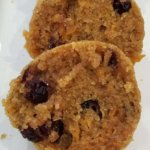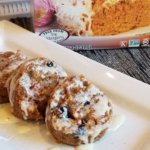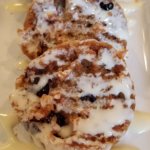 Here is the recipe for these amazing Namaste Mason Jar Spiced Carrot Cakes:
Namaste Mason Jar Spiced Carrot Cakes
Ingredients
1 package Namaste Spice Cake Mix
4 Eggs (or equivalent Namaste Egg Replacer)
3/4 cup Water
2/3 cup Oil or Melted Butter
1 cup grated Carrots
handful of Raisins (or Craisins)
1 container Cream Cheese Frosting
12 Half Pint Canning Jars (opening as big or bigger than bottom)
Instructions
Heat oven to 350 degrees F.
Lightly spray mason jars with non-stick spray.
Combine all ingredients together and mix well.
Pour cake batter into mason jars and fill half way or slightly more; take care not to over fill or they will rise out of the jar and potentially fall over while baking.
Place jars on a baking sheet and bake in oven for 40 - 45 minutes; until toothpick inserted in center comes out clean.
Remove from oven and let stand for 5-10 minutes.
Once cool to handle; turn jars upside down to allow cakes to "pour" out onto platter to cool completely.
When cakes are completely cooled; slice into 2" thick slices and arrange on plates.
Warm container of cream cheese frosting in microwave safe bowl for 15 seconds to melt. Do not over heat frosting or it will separate and require whipping back together.
Drizzle cream cheese frosting over slices and serve.
http://glutenfreewithmamab.com/2018/05/15/namaste-mason-jar-spiced-carrot-cakes/
Gluten Free with Mama B Recipe Collection
For more information regarding this Spice Cake Mix; visit Namaste Foods website at:  www.namastefoods.com or on their Facebook page at:  www.facebook.com/NamasteFoods.  Thank you Namaste Foods for allowing me the opportunity to review this amazing cake mix!  My family loved it and is already asking when I am going to make another one!