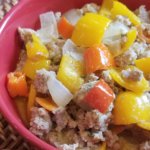 Gluten Free Turkey Yellow Curry
I am so excited to be sharing this amazing Gluten Free Turkey Yellow Curry recipe with you!  It is absolutely delicious with a perfect combination of sweet and spicy!
My sister loves to make Gluten Free Chicken Yellow Curry and highly recommended I try the Mae Ploy Yellow Curry Paste.  I took her recommendation and ordered the curry paste from Amazon and am so glad I did!
She found it in a little market outside of Las Vegas that specializes in different ethnic foods.  Huge find!  It is so good!  Makes this dish taste amazing!
I had never made a curry dish; so I had no idea what to expect.  My sis made it sound really easy so I decided to make it for dinner.
When I opened up the curry paste it smelled so good!  I couldn't wait to get started making dinner for my family.  They all love thai food with a kick; so this was going to be a fun dish to make for them to try!
My sister recommended using peppers, onions, potatoes and chicken breast.  I was in a slight time crunch; so I decided to use ground turkey rather than chicken breast.  I knew it wasn't going to be the same as hers, but should still taste good.  Using the ground turkey allowed the curry sauce to soak into the meat; for a fuller, rich flavor.  I really enjoyed it!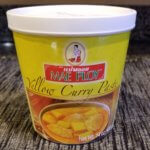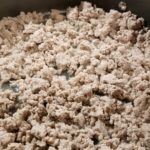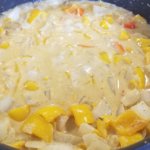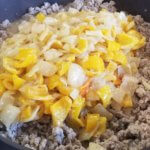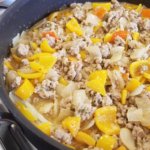 If you like curry this is a must try! Here's the recipe for you to share with your family!
Gluten Free Turkey Yellow Curry
Ingredients
1 lb Ground Turkey
1 Red Pepper; chopped
1 Yellow Pepper; chopped
1 Orange Pepper; chopped
1 Onion; chopped
1/4 c Mae Ploy Yellow Curry Paste (use less for milder flavor)
1 1/2 c Coconut Milk
1 tbsp Coconut Oil
Instructions
In large skillet; brown ground turkey. Set aside.
In medium skillet; stir fry peppers and onion in coconut oil until softened.
Add yellow curry paste and coconut milk; heat to warm.
Pour curry vegetable mix into large skillet of browned turkey.
Warm on medium heat and mix completely until heated thoroughly.
Remove from heat and serve in bowl or over rice.
http://glutenfreewithmamab.com/2018/06/01/gluten-free-turkey-yellow-curry/
Gluten Free with Mama B Recipe Collection
Next time I make curry; it will be a red shrimp curry dish!