Pineapple Bacon Sausage Breakfast Scones
These Pineapple Bacon Sausage Breakfast Scones were so easy to make and absolutely delicious!  I used the Namaste Muffin and Scone mix; which is sweet like a scone you look forward to getting at the fair.  Add in Aidell's Pineapple Bacon Chicken Sausages and Daiya Dairy-free Mozzarella Shreds and you have a sweet breakfast scone filled with protein to fuel your morning.
Friday mornings are one of my favorites to spend with my youngest son; Ayden!  We get up and make breakfast together after our teenagers head off to school for the day.  Sometimes daddy gets to join us for breakfast when he doesn't have a meeting or an office to be at first thing.
This morning I wanted to make scones; however, I didn't want it to be another breakfast filled with sugar to spike our energy and have us crashing down within a couple of hours.  With a preschooler and two teenagers; I try to make sure they all have high protein breakfasts to fuel their brains and hold them over until lunchtime at school.  The big kids usually have protein shakes and yogurt or toast; and occasionally I will get up early enough to make them a breakfast sandwich or omelet.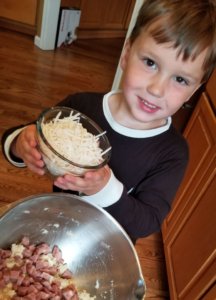 Ayden is lucky on Fridays because we have time to make whatever we want!  Today he asked for his favorite sausage; so I decided I would combine our ideas and make a sausage breakfast scone with the Namaste mix I had in my pantry.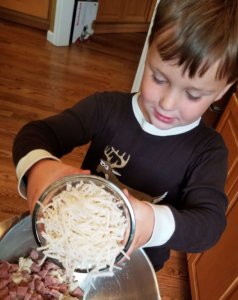 He's such a big helper!  He loves to dump in the ingredients, mix them all up, pour when possible and cut or slice the finished product.  For these yummy scones; he was able to help me pour in the egg replacer, dump in the cheese & sausage, squish the dough flat, use the pizza cutter to slice our dough and be an official taste tester!
If Ayden likes it you know it has to be good!  He is VERY particular and doesn't eat very many items.  He ate an entire scone and said, "this is delicious mama"!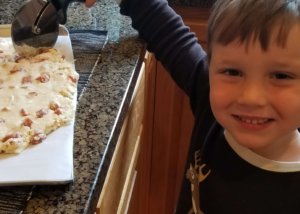 When his hard work pays off; his smile lights up my kitchen!  He is so much fun to create with because he sings and smiles almost the whole time.  Makes our kitchen so happy I don't want our time together to end or leave the kitchen!  Makes this mama's heart happy!
These sausage breakfast scones turned out great!  Next time I make these I will split the dough in half and add in different types of meat to make a variety for my family to choose from. I used Daiya dairy-free cheese; however, they would be absolutely delicious with real mozzarella cheese melted throughout the scone!  Another day!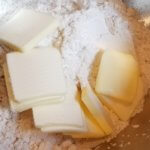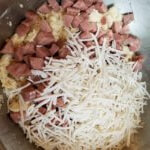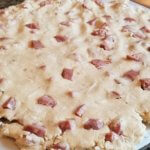 Here is the recipe for these protein filled breakfast scones:
Gluten Free Pineapple Bacon Sausage Breakfast Scones
Ingredients
1 Namaste Muffin & Scone Mix
6 tbsp Butter or Margarine
2 Eggs (or Egg Replacer)
1-3 tbsp Water
1 1/2 c Grated Mozzarella Cheese (I used Daiya Dairy-free Mozzarella Shreds)
1 1/2 c Aidell's Pineapple Bacon Chicken Sausage; diced
Instructions
Preheat oven to 400 degrees F; lightly grease cookie sheet or use parchment paper.
(I followed scone directions on box as shown below and added in meat and cheese)
In large mixing bowl; empty scone mix and cut in butter with pastry blender or fork.
In small bowl; beat eggs. (if using egg replacer; mix with water and beat)
Dump eggs in large mixing bowl and stir completely.
Add in 1-3 tablespoons of water; one tablespoon at a time util you get a relatively dry dough. (if using egg replacer; you will need to use 3-6 tablespoons of water)
Add cheese and diced sausage; combine using kneading of hands to mix thoroughly. (I like to use gloves to knead dough and squish the ingredients together)
Dump dough onto prepared cookie sheet and pat dough into a circle 1/2" thick; like a pizza crust.
Using a pizza cutter; slice dough into (8) triangles, but do NOT separate.
Bake for 15-17 minutes or until golden brown.
Remove from oven and carefully separate scones.
Serve warm and enjoy!
http://glutenfreewithmamab.com/2018/06/01/pineapple_bacon_sausage_breakfast_scones/
Gluten Free with Mama B Recipe Collection